PALESTINE EMERGENCY
They need our support, so let's help them this gracious month.
A peaceful morning prayer in Al-Aqsa Mosque was interrupted by the conflict between two factions, resulting in tragedy.
Over 150 innocent Palestinians were caught in the violence.
More than a thousand people had gathered in Al-Aqsa Mosque, the third holiest place in Islam, for the morning prayer, not knowing that their day would meet this fate. According to Palestinian Red Crescent emergency service, 152 people were hurt.
But this tragedy isn't something new to our brothers & sisters in Palestine, as a deadly airstrike hit the Gaza strip last year, killing more than 220 people including women and children.
Hundreds and thousands of Palestinian families are struggling to survive 13 years of economic blockade of Gaza Strip and the current escalation of violence is devastating.
Our brothers & sisters in Gaza are trying to survive in extreme conditions. They need our support, so let's help them this gracious month.
Muslim Response USA provides necessary aid to Palestine in times such as this. Your contributions could provide emergency relief, medical aid, and food aid to vulnerable families in Palestine.
Share the blessings of Ramadan with your brothers & sisters in Palestine by donating today. May Allah bless them with peace through our support.
Oxygen Concentrator is a type of medical device used for delivering oxygen to individuals with breathing-related disorders. It works as a window air conditioner — it takes air in, changes it, and delivers it in a purified form and has been found lifesaving for COVID-19 patients who face low levels of oxygen in their blood. 
The second wave of COVID-19 has added to the difficulties and challenges for the people of Jammu & Kashmir who are struggling to recover from the impact of state wide lock down imposed by the Indian government after it revoked Article 370 and 35A from its Constitution, that continued for more than a year.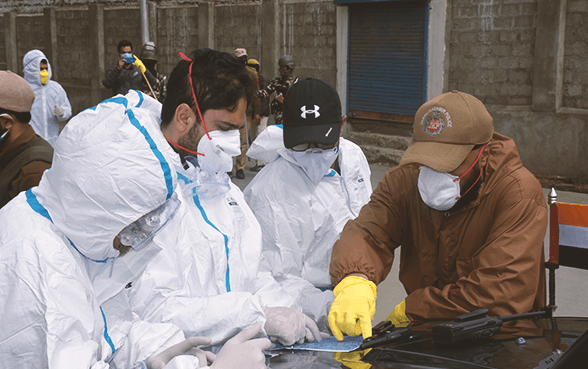 The troubled state of Jammu & Kashmir has witnessed violence and bloodshed for over two decades that took the lives of around 70,000 civilians, and hundreds of thousands injured and disabled. In addition, there are over 35,000 widows and over 150,000 orphan children in Kashmir whose lives have been shattered by the protracted violence. 
Response USA has launched Kashmir COVID-19 Relief to save lives by providing Oxygen Concentrators, food parcels and hygiene supplies to the extremely poor and at risk families.