GAZA EMERGENCY
Use your Sadaqah and Zakat to save lives in Gaza; they are counting on you!
The air strikes, bombardment and violence in besieged Gaza Strip have killed at least 212 Palestinians including 61 children and 36 women.
More than 2000 are injured after a series of police raids at Al Aqsa Mosque in the final days of the holy month of Ramadan.
Air strikes are targeting high-rise buildings and families are forced to spend nights cowering in basements. On Tuesday (May 11th) evening, a 13-storey building in Gaza was hit by airstrike and collapsed.
As a result of the destruction caused by heavy artillery and airstrikes, around 17,000 Palestinians have been displaced and 500 homes destroyed in the Gaza Strip.
A refugee camp was hit on Saturday (May 15th) – killing at least 10 Palestinians, including eight children – and a high-rise building was flattened that housed the offices of media organizations.
The Gaza health authorities confirmed on Sunday (May 16th) that another 42 Palestinians – including 16 women and 10 children were killed in the latest airstrikes and bombardment on Gaza.
As of May 19th, 50 schools have been damaged by the airstrikes over the past week, affecting more than 40,000 children.
Tensions were already high over the threatened eviction of Palestinian families from their homes in occupied East Jerusalem.
Hundreds and thousands of Palestinian families are struggling to survive 13 years of economic blockade of Gaza Strip and the current escalation of violence is devastating.
Oxygen Concentrator is a type of medical device used for delivering oxygen to individuals with breathing-related disorders. It works as a window air conditioner — it takes air in, changes it, and delivers it in a purified form and has been found lifesaving for COVID-19 patients who face low levels of oxygen in their blood. 
The second wave of COVID-19 has added to the difficulties and challenges for the people of Jammu & Kashmir who are struggling to recover from the impact of state wide lock down imposed by the Indian government after it revoked Article 370 and 35A from its Constitution, that continued for more than a year.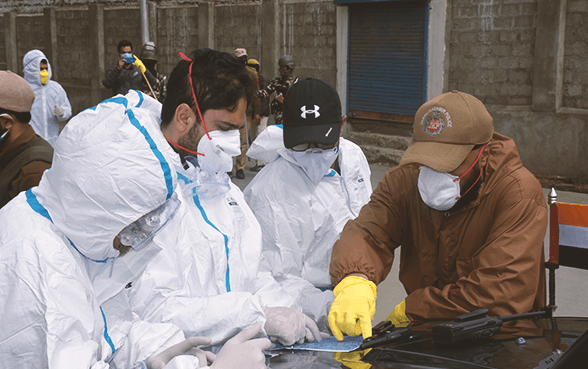 The troubled state of Jammu & Kashmir has witnessed violence and bloodshed for over two decades that took the lives of around 70,000 civilians, and hundreds of thousands injured and disabled. In addition, there are over 35,000 widows and over 150,000 orphan children in Kashmir whose lives have been shattered by the protracted violence. 
Response USA has launched Kashmir COVID-19 Relief to save lives by providing Oxygen Concentrators, food parcels and hygiene supplies to the extremely poor and at risk families.